Simple Changes
Step 0: Landing Page
Create an accessibility landing page for your website, housing some, if not all, of the information and photos we collected.
Step 1: Website
Fill out

this form

and receive a free assessment of your business website to see where it currently stands with accessibility features

Prioritize easy and cheap fixes you can make to your website. These include:

Add alternative text to images. Write clear, concise descriptions to accommodate users who don't perceive content visually. 
Add captions to videos. By writing accurate captions when drafting your video scripts, you can easily add an important accessibility feature to multimedia.
Use color thoughtfully. If your website uses color alone to convey information, add additional text so that users with vision-related disabilities can understand the content. Color Contrast refers to how bright or dark colors appear against each other on screens. The contrast between the text and the text background is a concern for colorblind and other visually impaired users.
Write descriptive subheadings and page titles.

Headings can improve the on-page experience for many people with disabilities. 

Use large print (at least 16 px) easy-to-read fonts, simple language and short sentences

in all text. Where possible, also

use icons and images

in online or printed information.

If you are personally interested in learning more about internet accessibility and its importance, here are a few resources:
Step 2: Staff
Educate staff on any and all accessibility accommodations you can offer, and train everyone on disability awareness and how to properly and respectfully communicate customers with disabilities. See the quick guide below on how to do this: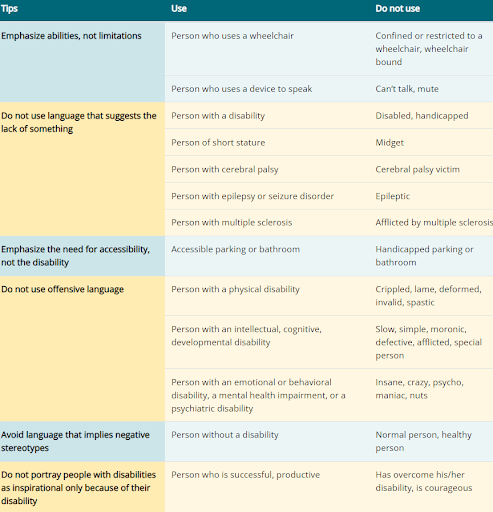 (Source: You can find more guides and information on informed communication here and here.)
Free video trainings:
Step 3: Small Changes
Increase signage to clarify to find all relevant parts of your business, e.g. front door, counter, restroom etc.

Lower wall displays (signs, displays, etc) to be accessible for all.

Remove clutter and obstacles from pathways, doors, underneath light switches and outlets, etc.

Widen aisles and paths as much as they possibly can.

Replace doorknobs with lever or push/pull handles to accommodate people who have problems with the squeeze and twist motion. 

Include people with disabilities in your marketing materials whenever possible.

Share accessibility-related reviews, comments, and testimonials from your customers on your website and any social media. 

Create clear sight lines between the entryway and service counter. 

Add safety markings to glass doors.

Allow reservations for people that are unable to wait in line for a long time.

Fast track visitors that cannot stand for long periods of time or offer them other seating options.

Consider organizing events for the disabled community – or giving concessions to people with disabilities at your events.

Use an Allen wrench to reduce the pressure of all doors to 5 lbs to make them easier to open.

If hotel check-in counters are too high for people using wheelchairs, train staff to meet guest in front of the counter.
Step 4: Low Cost Changes
Install extension chords to any hard-to-reach outlets or ones blocked by furniture ($10-20)

Have removable shower chairs on hand to give to guests who need them ($41)

Purchase a bed transfer slide board ($38)

Add movable grab bars with lockable suction cups to the bathroom and shower ($28)

Provide hand-held shower head adaptors for showers that have stationary shower heads ($27)

Include a stand-alone mirror ($15)

Replace any door handles that require a grip and squeeze motion to open them, and use handles to pull/push or lever style.
Step 5: Bigger Changes
The importance of accessibility is growing, and making your business accessible for everyone ensures that it will stand out to visitors, get them through your door, and keep them coming back
Translations for any and all written and audio material.

Ensure any stairs have an accompanying ramp and that all ramps do not exceed a 5-degree incline.

Install automatic doors to all entrances.

Keep some solid seating chairs with arms available for elderly guests and other disabled visitors to use – arms can be used to help those with mobility issues to push themselves up to get out of the chair.
We understand that large-scale infrastructure changes and additions can be very costly, which is why we recommend looking for possible grant opportunities. Whenever possible, we try to share such opportunities with participating businesses.
Step 6: Update your Information
Whether you simply make one of the low-cost/cost-free changes we suggested or you were given a grant to make a large-scale change, this information is important to put up on your website for visitors to see.